| | | |
| --- | --- | --- |
| SPECIES IRIS | | 'For Jay' |
Bog Plants, Species Iris and Species Crosses
Click on thumbnail for a bigger picture; use browser Back button to return.
Iris pseudacorus The water loving 'yellow flag' from Europe. 3 to 6'. Also does well in ordinary garden soil if you water regularly when needed. Can grow in shallow water.
| | | |
| --- | --- | --- |
| Gubijin | $10.00 | (Shimizu) A special yellow I. pseudacorus: the mother of those wonderful pseudatas from Japan |
| Jin Yu | $8.00 | (Jill Copeland 06) I. maackii. Light yellow self. |
| Krill | $6.00 | (Jill Copeland 03) Light yellow with red stitched signal. Signa Founders Medal 08 |
Inter species crosses with I. pseudacorus Grandchildren of the yellow flag, the ancestry is still mysterious. All are interesting flowers with fascinating line patterns in the petals.
Pseudatas: I. pseudacorus crossed with Japanese Iris (I. ensata) These interesting flowers now have their own page. To view the page of Pseudatas, click on the title word of this paragraph.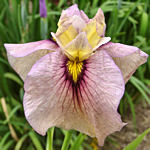 Kinshiko, a pseudata
Iris versicolor / virginica. The native northern and southern 'blue flags' that grow in shallow water and along the edge of streams. Branched stems bloom at about 20-30" if grown well in moist, organic rich soil. Hybrids of the two are called robusta.
| | | | | |
| --- | --- | --- | --- | --- |
| | | | | |
| Asian Alliance | Dark Aura | For Jay | | |
| | | |
| --- | --- | --- |
| Asian Alliance | $6.00 | (Horinaka/Witt 88) a versicolor x laevigata. 3F. 24". Falls medium red-violet; tall standards lighter red-violet; yellow spear signal |
| Dark Aura | $6.00 | (Hewitt 96) Robusta. 36". Large, dark red-violet blooms on black-purple stems! Purple foliage in spring! |
| For Jay | $10.00 | (Copeland 03) a robusta. 6- 8 buds. Violet stds, dk violet falls, yellow signal and white halo with purple veins |
| | | | | | |
| --- | --- | --- | --- | --- | --- |
| | | | | | |
| John Wood | North To South | Simply Cute | Wooly Bully | | |
| | | | | | |
| | | |
| --- | --- | --- |
| John Wood | $6.00 | (Wood 98) versicolor. Deep red-violet, gold and white signal; stems shaded purple |
| North To South | $10.00 | (Copeland, Jill 2020) Northern Iris setosa crossed with Southern Iris virginica ! Blue-violet flowers on 30" branched stalks. |
| Simply Cute | $6.00 | (Copeland, Jill 15) Short biversata of velvety red violet, white styles |
| Wooly Bully | $6.00 | (Jill Copeland 06) Robusta. Vigorous blue purple self, lighter standards, gold signal |
| | | | |
| --- | --- | --- | --- |
| Louisiana Iris: | | | |
| | Michigan Belle | Michigan In Dallas | |
| | | |
| --- | --- | --- |
| Michigan Belle | Sold Out | (Jill Copeland 07) Nice violet Louisiana iris that does well in our zone 5 climate |
| Michigan In Dallas | Sold Out | (Jill Copeland 17) Louisiana Iris. 32" Deep blue purple self, striking yellow signals |
| | | |